It's Time to Start Your Adventures!
Join us for some fun! There is a little something for everyone! 
Weekend in SA with AA presents:
Featuring our world-famous Dessert Auction and $plit the pot!
We look forward to hearing those wonderful voices!
Dress up the part!
Bring a duet!
We are super excited and a Special Surprise Guest will perform a song. 
See you soon!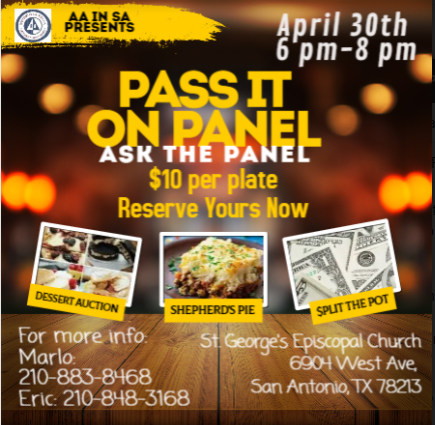 We are back and ready to start this year with a great kickoff event!
Our first event is the Pass it On Panel with our very own:
Will W., Bret M., Sybil W., Robby G., and Connie S.
April 30th from 6 pm – 8 pm at St. George's Episcopal Church.
$10 ticket reserves your seat for dinner featuring Shepherd's Pie
Dessert Auction and World Famous $plit the Pot!